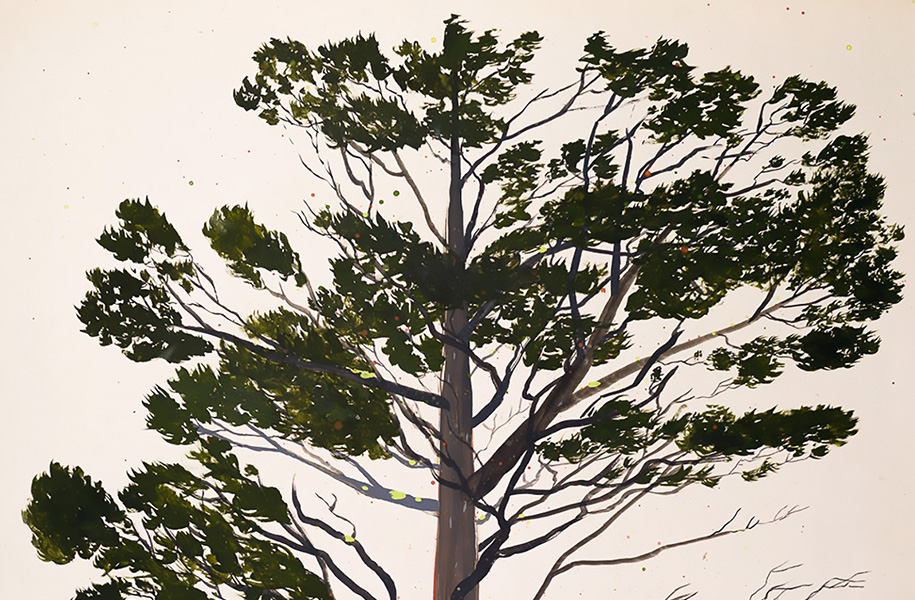 Vander McClain Juniper, Lava Beds Wilderness, Oregon, March 29, 2022
Gouache, ink, and graphite on paper
24 3/4 x 21 1/2 inches
Presented by AMcE Creative Arts
---
"My paintings are distillations of natural objects and found mo- ments in remote environments. Documented on-site, I relay an objective relationship to my subject, so the engagement remains pure. I present them as they are, following their shapes, lines, ridges, and contours exactly as they are formed and found. Over the course of my life as an artist, I learned everything I know about color, composition, contrast, and light by studying and recording nature.
My current series, Field Notes, is a compilation of pictorial docu- mentation from 23 locations in the American West created over the period of ten years. My paintings highlight and catalog the various specimens found in their diverse ecosystems and terrains. The images, simplistic and nonobjective, catalog and record my experience in
and relationship to nature. The works are presented in grids according to geography, designed to create a broader survey of the landscape's geologic and ecologic diversity. This includes evidence of myself, the artist. My hat, vest, and jacket become part of the objects in the series to serve as existential side notes alongside the main source material."
Bio: Vander McClain received an MFA in painting from Parsons School of Design in New York, studying under Glenn Goldberg. He also studied painting in Umbria, Italy. He received his BFA from Oklahoma State University studying with Marty Averett. McClain was awarded an apprenticeship under master printmaker Bill Goldston at Universal Limited Art Editions (ULAE) in New York, an experience that was instrumental in his development as an artist. While at ULAE, in direct communication with the artists, he worked on lithography editions for Robert Rauschenberg, Jasper Johns, Julian Lethbridge, and Terry Winters. Additionally, McClain was a studio assistant for Jane Hammond, Elizabeth Murray, Carroll Dunham, and Laurie Simmons. McClain's work has been exhibited in galleries in New York. He currently lives and works in Seattle, Washington.